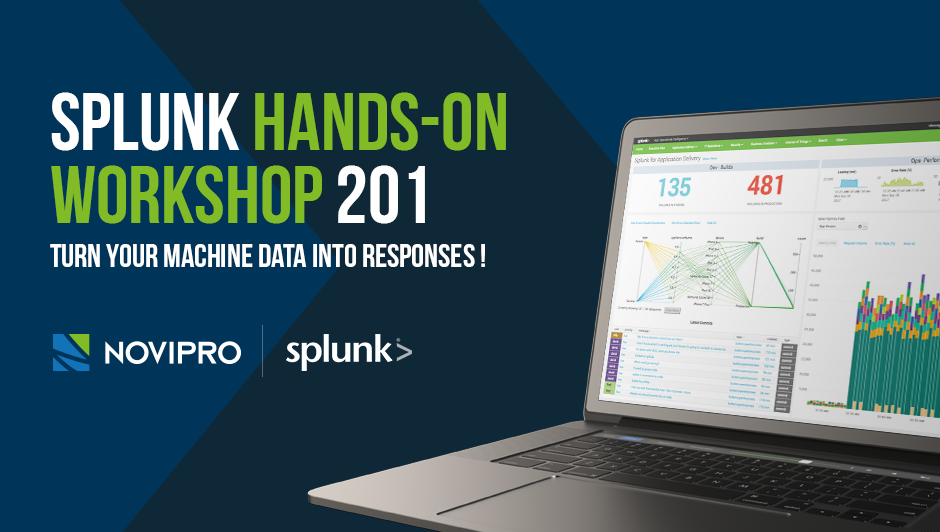 seminar
| Wednesday Wednesday, May 30, 2018
Hands-On Workshop : Machine Data 201
LEARN HOW TO TURN YOUR DATA INTO INSIGHTS WITH SPLUNK
 ** Seminar in French only**  
We are excited to invite you to an exclusive 3-hour hands-on Splunk workshop entitled Machine Data 201.

Machine-generated data is one of the fastest growing and complex areas of big data. It's also one of the most valuable, containing a definitive record of all user transactions, customer behavior, machine behavior, security threats, fraudulent activity and more. Splunk turns machine data into valuable insights no matter what business you're in. It's what we call Operational Intelligence.

TARGET AUDIENCE: New users as well as more experienced Splunk users that wish to refresh their knowledge. Format: technical content with individual interaction on a Splunk VM..

AGENDA
Creation of applications

Creation of dashboard

Creation of entry type, tag, alias, etc.

Developing SPL queries

Exploration of the most common correlation functions and the principle of data enrichment

Report creation and dashboard views

Creation of

 alerts

Creation of

 limited access users

Teaser for the advanced Splunk 301 workshop
SCHEDULE
1:45 pm: Workshop registration 
2 pm  - 5 pm:  Hands-On Workshop (Work in a few breaks)
5 pm - 5:30pm: Workshop wrap-up and Networking
*Coffee breaks and snacks will be available during workshops

BYOL : This is a hands-on workshop, so please remember to BYOL (Bring Your Own Laptop)!


Register today! Seats are limited. This workshop is courtesy of NOVIPRO and Splunk.
Questions? Please contact us at: marketing@novipro.com

We look forward to seeing you there!

Where and when ?
Start date:
Wednesday, May 30, 2018
End date:
Wednesday, May 30, 2018
Cost:
This workshop is courtesy of Splunk and NOVIPRO.
Place :
ITHQ - Institut de tourisme et d'hôtellerie du Québec - 3535 Rue Saint-Denis, Montréal, QC H2X 3P1
---
Share this event
Do you require additional information?
Would you like to do business with us?
Check with one of our specialists now.