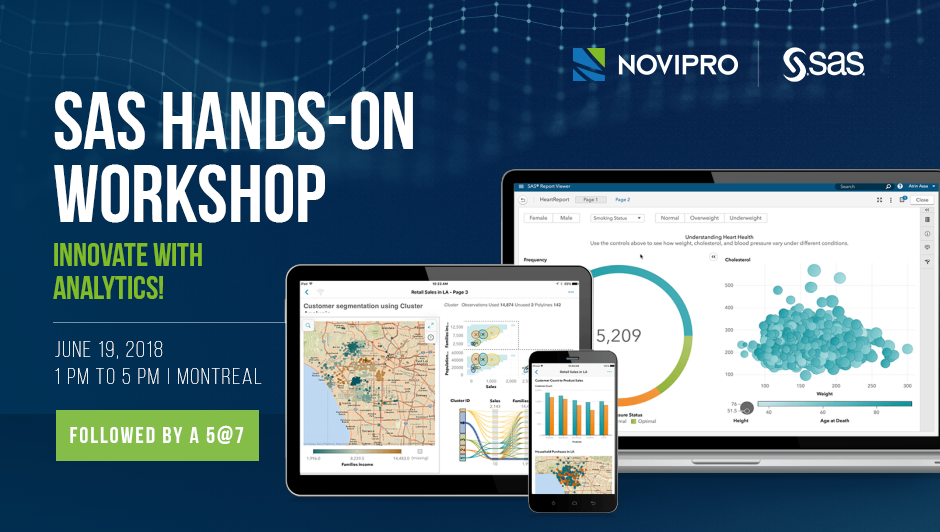 seminar
| Tuesday Tuesday, June 19, 2018
Innovate with analytics
Join us on June 19th  for a hands-on experience of the latest approachable analytics capabilities. 
Users of all skill levels can visually explore data and create analytically driven visualizations while tapping into powerful in-memory technologies for faster computations and deeper discoveries. 
Facilitated by Visual Analytics experts, this 3- hour workshop is designed to teach you to uncover hidden opportunities, identify key relationships and make more precise decisions to drive success.
In this hands-on workshop, you will learn how to:
Go from data to insight with the SAS Platform
Workshop Scenarios: Data Preparation, Data Exploration, Analytic Visualization, Interactive Modeling & Machine Learning
Implement dashboards, reporting and analytics – all from a single interface.
Go directly from reporting to exploration and model creation.
Drive an analytics culture and support all user requirements.
Agenda
1:00pm Workshop registration
1:15: Introduction
1:30pm Hands-On Workshop (to be delivered in French)
5:00pm Workshop Wrap-up 
5:00 Happy Hour and Networking
BYOL : This is a hands-on workshop, so please remember to Bring Your Own Laptop!
Register today! Seats are limited to 20 participants. 
Questions? Please contact us at: marketing@novipro.com
We look forward to seeing you there!

Where and when ?
Start date:
Tuesday, June 19, 2018
End date:
Tuesday, June 19, 2018
Cost:
This workshop is courtesy of NOVIPRO and SAS.
Place :
NOVIPRO - 1010, de la Gauchetière W. Suite 1900 Montreal (Quebec ) H3B 2N2
---
Share this event
Do you require additional information?
Would you like to do business with us?
Check with one of our specialists now.